If you have a notebook computer, most likely you use (or have been looking for) something of quality to tote said portable. If you're like me, you want something well-designed, with convenient pockets in all the right places, and a sturdy construction which protects your investment.
If you happen to be in the market, I'd like to give an unsolicited plug for Gary Waterfield and the products he and his team create and sell under Waterfield Designs. The paragraph above describes his products perfectly. Great designs, convenient access, protective, durable, and stylish without looking like a Nike cross-trainer shoe.
I discovered Waterfield a few years ago, while looking for something to lug around the 7.5-pound PowerBook G3 Wired provided for me. With the abundance of bike messengers here in the city, Timbuk2 has always been an extremely popular choice. But I wanted something a little more sturdy, and found a flood of positive reviews of Waterfield's products with a little research. After I ordered a green-front (um, "celeste", whatever…) large Cargo bag from them, I found out why everyone spoke of them so highly. Not only did it arrive quickly (they're based here in San Francisco), and with a hand-written thank-you note on the packing slip from Gary himself (their service is excellent), the bag was a beautifully designed specimen which held everything I wanted it to.
A year later, I purchased my own PowerBook G4. At the time, Waterfield was one of the only companies producing "sleeve cases" large enough to fit the wider Titanium notebook. Soft neoprene insides wrapped in the same Ballistic shell which made their bags so sturdy. These sleeve cases are great for adding that extra level of protection for any laptop. They've been so popular, Waterfield now produces them in a wide variety of sizes. The large Cargo bag I already owned featured an inside pocket which holds a G4 PowerBook-sized computer (including the sleeve case) snugly against the back of the bag.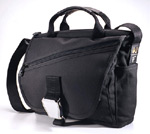 It took me several years to drop down in size, but now that I'm using a tiny 3-pound 10-inch Vaio as a primary machine, I finally switched to an all-black small-size Cargo bag. same features, but in a much smaller package, and a new sleeve case to match the size of the smaller notebook. The feature which always elicits an unexpected comment from a friend or stranger is the brushed aluminum aircraft seatbelt-style buckle on the front of the bag.
If you're looking for a bag to protect a newly-purchased laptop, or want a replacement for your current bag/briefcase, like other current customers, I have no hesitation recommending Waterfield hands down, and can't speak highly enough of them and their products. Excellent value for their slightly higher-than-average cost. They have other cool products too, including a popular iPod case, camera cases, and miscellaneous small gear pouches to hold power cords, external drives, or whatever else you like to keep in your bag of tricks.