Whew. The all-day and late-night, non-stop activity in Austin is enough to leave anyone exhausted once the event is over. (And to think some of the geeks are still there for the Music portion of the festival.) Yesterday morning, the hotel alarm clock had been set for 5:50am. The Veen brothers were coming to pick me up at the hotel at 6:20am for a way-too-early flight back to San Francisco. True to some law that states "an alarm clock will not go off when you need it most", the alarm never sounded. Regardless, in some miraculous instance, I somehow bolted up in a panic at 6:18am. No idea what woke me up then, and why it couldn't have occurred a few minutes earlier.
Fortunately I had packed the night before, and only needed to gather a few more items. Jeff called two minutes later to let me know they were on the way. A quick dunk of the head under the faucet, some speed dressing, a dash to the elevator, and two more minutes later, I had checked out of the hotel and was climbing into the back of a rental car for a rushed trip to the airport. True to some other predictable law that laughs in your face when you rush like sleep-deprived madmen to get to the airport early in the morning, our flight was delayed more than two hours while we waited for a flight crew whose alarms had apparently never gone off either.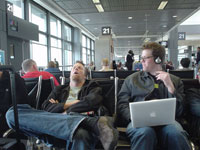 This photo of Jeff and Greg quite adequately sums up the morning after, while waiting for our tardy crew.
So many ideas and issues were brought up in panels and conversations this year at South by Southwest, I could write for more than a week and still not address everything we talked about over the whirlwind of the last few days. Such, hopefully, will be the subject of entries for the next few days.
As all of us know who have been to Austin in March one time or many times, SxSW is so much fun each year because of the people who come. The conference is well known for the events, parties, and impromptu gatherings that happen between and after each day's worth of keynotes and panels. It makes for a very flat structure where everyone is accessible and approachable, and there's really not much difference between speakers, panelists, and attendees. Whether it's the pseudo star-struck wide-eyedness of a first-timer, or the anticipation of once-a-year encounters with friends who go every year… hands-down–and as I described last year–the people make SxSW one of the most fun conference-like events of the year.
Thanks to Hugh Forrest and his team for organizing yet another fantastic Interactive Festival. And here's to all the friends I got to hang out with again this year, and to others who I finally got to meet for the first time. The list is way too long to present here, or even remember everyone who is on it. But to those who I met, shared a conversation with, presented with, heard a presentation from, dined or supped with, or spent any time with at all… thank you for another great year.