Last month, I posted a short little write-up about how I created my own tweet archive. It was a quick hack, pulled together one Saturday afternoon, and fairly incomplete, at best. But the archive serves its simple purpose every now and then. I intended to update the archive, add some features, and modify the theme files to better prep them for distribution. But I'm realizing I probably won't get around to that any time soon.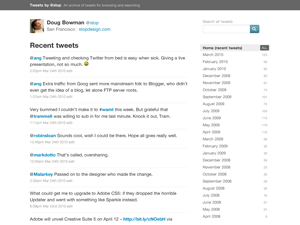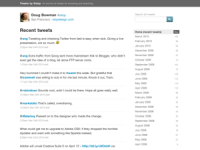 I'm seeing lots of other folks building out their own archive. And lots of them are using the WordPress solution I wrote about. So in the interest of providing a rough starting point, I'm making the WP theme files for my tweet archive available here (under a CC license) for anyone who wants them as a base. Download tweets.zip (39 KB).
One followup note… Andy Graulund (@graulund) is building a similar tweet archive that is much more robust and more awesome than my original. His is a PHP-based solution (no WordPress required) with embedded media, permalinks back to Twitter, graphs showing tweet activity, and more. I believe he's planning on releasing his source soon. Keep an eye out for that.
—
WordPress-based browsable, searchable archive of tweets by Douglas Bowman is licensed under a Creative Commons Attribution 3.0 Unported License.