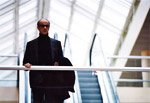 My first night in London, I forced myself to stay awake by taking the tube to SOHO, finding fish and chips for dinner, and deciding to watch an Italian film, "The Consequences of Love," at the Curzon. Not the best choice for keeping one's self awake after an 11 hour flight to London, but somehow it worked. Billed as a "psychological thriller", this film's pacing should have put me to sleep. But I managed to follow to the end.

Even though my presentations for @media were complete before I left San Francisco, I still needed to work on slides for a talk at Reboot in Copenhagen the day after @media ended. So I didn't get to see much of London last week. A shame, considering it was my first time there, and I really wanted to see more of this city. All of my friends who have been raved about it, and had given me lists of everything I should see and experience.

Fortunately, I returned to London from Copenhagen one day before flying back to San Francisco, and got my second chance to explore the city. By the time I took the Stansted Express to Liverpool Street Station, then the Underground all the way over to Kensington to my hotel, it was already 2:30 in the afternoon. A half day still isn't much time to see all London has to offer. But a tour around London on the top deck of the sightseeing busses at least gave me a good feel for what the parts of the city are like. I hopped off several times for places like Buckingham Palace, and caught an Evensong service at Westminster Abbey. Unfortunately, no time to do things like visit St. Paul's or circle the London Eye, so I'll just have to return for those some other day.
Because of the sunny weather I got that last day, most of the pictures I took that afternoon (Gallery: London 2005) show blue sky, a rarity for London. The clouds moved in as evening approached, and the wind and chill came with them. However, for three or four hours that afternoon, it felt more like California weather than what I've been told to expect of London.
Bits and bats
A few interesting bits and oddities I noted while visiting London:
Despite the general decay and worn-down feel of the Underground, the Jubilee line has a few really beautiful stations south of the river. Walking through both Waterloo and Southwark stations felt like I had stepped onto the set of a futuristic movie.
Although you're supposed to "keep to the left" on stairways, you're supposed to "stand on the right" on escalators, or else you're some kind of oversized toilet plunger. Despite driving on the left side of the road, there seems to be no propensity to walk down the left side of a corridor or sidewalk — British walk where they please and will become annoyed at you for walking on "their side", no matter what side you try. Probably equally true for cities like New York and San Francisco though.
Apparently the 2-pound coin is of similar (enough) size to the 2-pence coin to cause me confusion. Not all 2-pound coins are two-toned. The cashier would either hand me back the 2-pound coin for paying too much. Or the cashier would continue holding out a hand, looking at the idiot on the other side of the counter (me) who didn't know how to count his change properly when offering a 2-pence coin to pay for a pack of ibuprofen.
"Taking the piss" is not generally done with the aid of a toilet or urinal, whereas "taking a piss" is just foul American slang, yet taking the biscuit is usually a good thing.
I couldn't help noticing the signs on building everywhere which announced "TO LET" — I understood this was the equivalent of our "For Lease" or "For Rent" signs — however, they looked more to me like they were missing a single letter "I" right in the middle, which doesn't do much to promote the place.