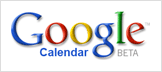 The online calendar space just got a lot more interesting. Create, search, find, discuss, and invite anyone to all kinds of events. Keep your own schedule privately organized and accessible from anywhere. Or share single events or whole calendars with friends and family, or publish to the world. All with the shiny new beta of Google Calendar.
Stopdesign's readers will note that I haven't written as much here lately. But I have good reasons. In addition to planning an upcoming wedding, I had the good fortune of collaborating with Google on the design of this new Calendar app. It's been a truly amazing experience to work with the team and see this product come together.
I thought I had it covered with iCal on the Mac, and PHPiCalendar on the server to publish read-only views for my fiancée to access at work. While working with the Google Calendar team, I eventually switched to try it out. It pays to actually use the product you're helping to design. I've been blown away that this is possible on the Web. Lots of new features I haven't seen in any of the other calendar apps out there. Simple, easy, uncluttered, and fast. I love the drag-n-drop of events, and plain-text recognition of phrases like "Lunch with Dave tomorrow 1pm".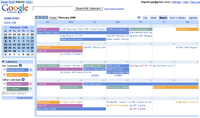 You don't need a special invite or even a Gmail account to try out Calendar, but it does require a free Google account. Windows users will be fine on either IE6+ or Firefox. Mac users, no Safari support, so you'll need to use Firefox if you want to try this one. [Update: Safari is now supported too!] Power users will want to enable and learn the keyboard shortcuts for zipping around. Remember, even though many features seem quite flushed out, it's still Beta, so set expectations accordingly.
Congratulations to Google on the launch of Calendar. Tremendous work on raising the bar once again. I'm honored to have been a part of the process.