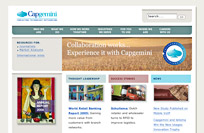 Stopdesign proudly announces the new design for Capgemini, a global leader in consulting and technology with headquarters in Paris, and regional operations throughout Europe, North America, and Asia Pacific. Stopdesign worked with Happy Cog Studios and Capgemini's corporate web team to redesign the site of this worldwide consultancy, showcasing how Capgemini collaborates with each of their clients as partners, working with them to meet unique requirements.
The design is clean, open, and flexible, allowing Capgemini to present large amounts of uncluttered, to-the-point information to its visitors, avoiding the buzzword-laden, over-dramatized fluff typical of other consultancies. The site's code also takes advantage of semantic XHTML for markup and CSS to control all layout and design details, pushing Capgemini to the forefront of its category in terms of forward-thinking, standards-compliant design.
Happy Cog includes a few more details about the project. I'm honored that Stopdesign got to work with Happy Cog once again, on a major project for Capgemini. A good experience all around.