So a few of my fellow Google UXers and I will be at SXSW this year. We thought it odd that we couldn't find a calendar that aggregated all the sessions, panels, and parties of SXSW in one place, in a traditional calendar-like view. There are lists of daytime panels and evening parties, and you can add events one at a time to a personalized calendar on sxsw.com. But there was nothing that aggregated it all in one easy-to-view, all-at-once calendar (at least nothing that we knew of).
(Scene Left: Tantek walks in and begins expounding on the merits of microformats, informing everyone that the entire SXSWi panel page is marked up with hCalendar, and that we can all use Tails or Operator, or some other Firefox extension that could magically whisk all the event data out of that page, somehow allowing us to import the data into iCal or Sunbird or Outlook or whatever floats our fancy. Narrator responds: But what about evening events? And why should everyone need to go through that trouble to see everything at once?)
And that's where I started thinking. Let's suck all that SXSW Interactive event data into Google Calendar, get all the relevant details entered for as many events as we can and in the right fields, then share the calendar with each other. Or better yet, let's just make the whole calendar publicly available to anyone who wants it. So a few of us got together and did just that. And now you can add SXSWi 07 as another calendar in Google Calendar, or subscribe to the ICAL feed or XML feed in any calendar app of your choice. Event names, times, locations, and as many details as we had are all in one place.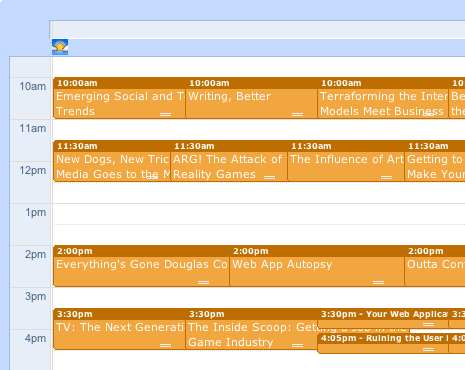 I know SXSW tends to be a little spontaneous as far as what I (and others) choose to attend. But there's so much going on over the next few days. I know there are a few panels and parties many people don't want to miss. I don't expect anyone to keep the whole SXSWi calendar visible all the time–there's way too many events on it for that. Rather, you could use it like I'm going to: grab a few of the panels and parties I don't want to miss, copy them over to my personal calendar, then hide the SXSWi calendar until I need it again. Sync my personal calendar with my Treo via GooSync. Delete it at the end of SXSW.
Note: This is not in any way an official calendar provided by Google. It was just cobbled together by a few of us who happen to work here, then shared publicly in hopes it might be useful to a few SXSW attendees other than ourselves. As always, all events and details are subject to change at the whim of the organizer without notice.
Also worthy to note, the events are all (obviously) happening in Austin, TX. So they're tied to Central Time (GMT-06:00). If you're coming from far away, you'll probably want to adjust your calendar's time zone setting once you arrive, so times will all appear correctly while you're in Austin. Just remember to switch it back to normal once you return home!
If you'll be in Austin, see you there.